Your Sample Matters!
In this webinar we will introduce you to the benefits
of digital sample tracking and a paperless process documentation.
Watch the Webinar
Agenda
Do you wonder what has happened to your sample when you are not there? Could you find a sample quickly in your -80°C freezer and prove when it was last removed? Losing samples directly impacts your work and in the end, the value of your research.
Moving your laboratory into the digital world can help to overcome these potentially costly situations. Advanced device monitoring allows you to see what is happening to your samples at anytime from anywhere. Barcoded consumables will allow you to create a digital workflow, tracking not just where your samples are, but what has happened to them. Combined together, digital device and sample management gives you an overview of your sample, insights into your laboratory and new opportunities to gain efficiencies.
These combine to save you time and money, whilst giving you greater peace of mind!
In this webinar we will introduce you to the different digital solutions from Eppendorf that can support you in your laboratory.
Your Sample Matters webinar key topics:
The benefits of digital device management
What advantages can be gained from implementing pre-barcoded consumables in your laboratory
What topics to consider when you decide to introduce digital solutions into your laboratory
Introductory video: You and Your Lab with Eppendorf at your side
Our Speaker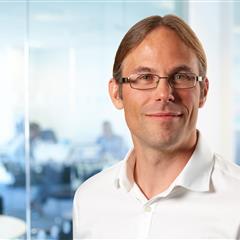 Mr. Stephen Dey
Head of Segment Marketing Europe, Eppendorf.
Register now to watch the webinar