The New Binder King-Size Solid.Line
Cell Culture Incubator
Smart and easy - experience simplicity at its best for better cell growth.
Watch the Replay
Agenda
Have you ever thought about how cells see an incubator from the inside? Never before shown visuals give you an impression and demonstrate functionality, user-friendliness and benefits of the new Solid.Line CO2 incubators.
What makes Solid.Line so special? For example, Solid.Line provides one of the largest petri dish capacities per shelf, daily 'tiptoeing' is eliminated, its fanless design creates uniform temperature, humidity and CO2 conditions and the 180°C sterilisation routine creates an interior which is thoroughly clean. Tune in to see these and many more features.
We will also present how design relieves budget-stress and sets valuable resources free. Solid.Line CO2 incubator models CB-S 170 and CB-S 260 perfectly suit the demands in academic research, education and training.
Webinar Key Topics:
Discover how intelligent design supports best cell and tissue culture practice
See how your day-to-day culture problems are solved
Learn how Solid.Line ensures good cell growth
Learn why applying simple physics generates substantial economic benefits
Related documents
Brochure: Binder™ CO2 Incubators Overview
White Paper: Cell Cultivation: For and Against Particular Technical Solutions in CO2
Technical Sheet: Model CB-S 170 CO2
Download Documents
Our Speaker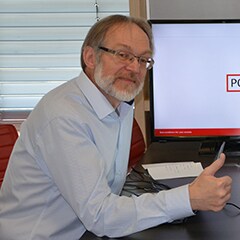 Lothar Maresch
Biologist, Academy Manager, Binder.
Register now to watch the webinar