BINDER: The Extra Edge in ULT Freezing
Preserving your valuable samples and helping to solve key
day-to-day cold-chain problems.
Watch the Webinar
Agenda
The importance of ultra-low temperature freezers has gained new public awareness since the world has been challenged with distributing the COVID-19 vaccines worldwide to vaccinate millions. Safe and reliable storage preserving the specific properties of valuable materials such as vaccines is key, and may also be life-saving.
What makes the UF V -90°C freezers series stand out? Uniform and stable conditions are a matter of course. More extraordinary are best-in-class warm-up times of up to 540 minutes from -80°C to -40°C in case of power with exceptionally quiet operation, making environments much more pleasant. A unique channel tray makes de-icing much more comfortable and less messy, and our water-cooled versions just might be the perfect solution for your lab.
During this webinar, never-before shown visuals will provide you with an overview of the UF V freezers and demonstrate their functionality, user-friendliness and benefits. Join us to see these and many more interesting features.
Webinar key topics:
Have you ever rolled a big freezer off the pallet right into your lab? Discover this and many more solutions solving day-to-day problems.
Learn how BINDER UF V freezers maintain and protect precious samples.
Find out how de-icing is made easy.
Never before shown images provide new perspectives on freezer operation.
Related documents
Brochure: Ultra low temperature freezers
Brochure: Technical Spec Sheet "Model UF V 500"
Brochure: Case Study "BINDER freezers do their part in coronavirus vaccine research"
Download Documents
Our Speaker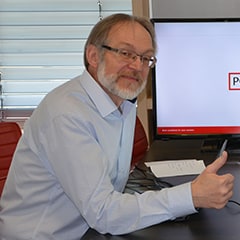 Lothar Maresch
Biologist, Binder Academy Manager.
Register now to watch the webinar