BINDER and the Fisher Scientific Channel Introduce Two New Exciting Vacuum Drying Chambers
Discover the exciting design for non-flammable and flammable samples.
Watch the Replay
Agenda
What happens to a balloon in a vacuum drying chamber? Apart from experiments like this, vacuum drying is ideal for processes involving temperature-sensitive or oxygen-sensitive samples, flammable solvents, accelerated drying and many more applications.
Never before shown visuals demonstrate functionality, user-friendliness and benefits of two new vacuum drying chamber models from Binder: VD and the ATEX-compliant VDL.
Depending on the model, the maximum temperature is 220°C or 110°C, while the lowest achievable vacuum is ≤5mbar depending on the type of pump, all turned on/off via a chamber controller. A touchscreen allows precise digital settings and a unique new interior lighting system enables never before possible viewing capability. Reproducible drying is made easy with an automatic detection function called SmartVent, which is also described. Join us to see these and many more features.
These new vacuum drying chambers are used for applications in automotive, electronic, pharma, cosmetics and food and beverage research, also in quality assurance and production.
Webinar key topics:
Experience how easy vacuum drying can be
Learn how ATEX safety guidelines influenced the unique design
See how the ex-proof chamber works
Discover how smart features solve day-to-day drying problems
Related documents
Brochure: Vacuum drying chambers
Brochure: Model VD 23 Vacuum drying chambers for non-flammable solvents
Download Documents
Our Speaker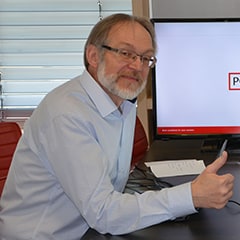 Lothar Maresch
Biologist, Binder Academy Manager.
Register now to watch the webinar