DWK Life Sciences
Safety matters. And in the lab, safety matters a lot.
However, selecting the safest type of labware for an application can be overlooked.
With more than 100 years of commitment to innovation across our business, we have created a wide range of products designed to improve lab safety, protecting you, your colleagues, and the contents you are working with.
Our lab safety products are divided into several core categories, each with their own safety benefits. To make key safety attributes easy to identify we have also introduced four safety badges.
Our Built Stronger badge is assigned to products with greater levels of robustness and durability. Our Safer Handling badge is assigned to products that are easier to handle and use during day to day lab work. Our Spill Protection badge is assigned to products that reduce the risk of accidental spills or leaks. And our UV Protection badge is assigned to products that protect contents from UV light damage.
Explore the products in each category below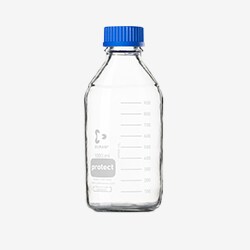 Plastic Coated Glassware
Virtually inert borosilicate glass meets an external plastic safety coating.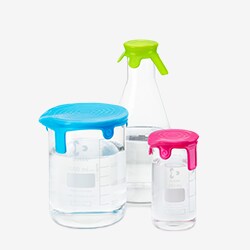 Silicone Lids
Safe and sustainable way of covering laboratory containers of different shapes and sizes.

Safety Venting
Wash Bottles
With patented DripLok vapour venting valve to reduce the risk of solvent drips.

---
Today, Together For Tomorrow
Find out how DWK Life Sciences can support your bio-processing and vaccine manufacturing needs, with a comprehensive product range including:
Sterile and non-sterile high-quality plastic products for sample collection and diagnostics in the field
Cell culture products and specialised solutions to support preclinical vaccine research, stability studies and more
Full-scale production and pharmaceutical packaging
---
Plastic Bottle Survey
We've launched a user survey to help shape the development of our plastic bottle range.

If you're a scientific plastic bottle user then you could win an Amazon gift voucher with your input, regardless of the brand of bottles you currently use.
---