Science World
Science World, the UK's no.1 laboratory show, is coming to Leicester! This will be the 26th UK Science World since it began in 1998 and follows recent success not only in the UK but also in Germany, France and Spain. Science World will be coming to Leicester Tigers ground on 10 October 2019.
Science World is THE place to be for anyone working in or around a laboratory. Anticipated to attract more than 700 visitors and 60 leading industry exhibitors, this is a fantastic opportunity to see thousands of laboratory products in action, network with industry professionals and attend industry leading seminars.
The event details are:-
 Date: 10 October 2019
 Venue Leicester Tigers ground
 Time: 09:00 to 16:00
FREE transport can be provided for groups of 10 or more people. Simply email eu.exhibitions@thermofisher.com.
Entertainment
Professor Hal
---
Something that a lot of us are capable of forgetting as we grow older is the potential that learning has to be fun. Professor Hal is on a mission to help as many people as possible learn through play - regardless of age or ability.
Professor Hal - full name Professor Hal Sosabowski - isn't just about teaching young people. He is also the principal lecturer in Chemistry at the School of Pharmacy and Biomolecular Sciences at the University of Brighton, and is also the university's Professor of Public Understanding.
In addition to his more traditional qualifications, Professor Hal also holds the honour of being the first person granted permission to create explosions in the House of Commons. He also made the said explosions, which is more than Guy Fawkes ever managed. However, Professor Hal wasn't trying to blow anyone up - instead, he was launching the UNESCO International Year of Chemistry in 2011.
When not researching or teaching chemistry undergraduates, Professor Hal travels around the country with his show "Bigger Bang". This venture has also put on shows in Belgium, Russia, Abu Dhabi and many other locations across the world, showing the international reach that fun science can have.
On his website, Professor Hal explains: "I remember doing second order differential equations and finding them hard and uninspiring - but most things can be livened up if we know how."
This ability to generate curiosity and trying things out just to see what will happen is a real asset for those working in experimental science, and this is why Professor Hal will be present at this year's Science World event at Leicester.
Professor Hal has also contributed to a variety of educational television programmes - most notably the CBeebies series Operation Ouch, which won a BAFTA for Best Children's Programme in 2015.
Discussing his appearances at Science World, Professor Hal said: "It's great to have this opportunity to bring a touch of fun to people who specialise in scientific laboratory work, which can often be quite serious. Regardless of the setting, getting people excited about science is one of the most important things we can do, as it can transform our own research, and help encourage the next generation."
Professor Hal will be back by popular demand. Putting on more explosive performances in the name of science with the following shows. Check out our day planner for full details!:-
Bigger Bang! I: A Science Phenomenon
Bigger Bang! II: The Science Strikes Back
More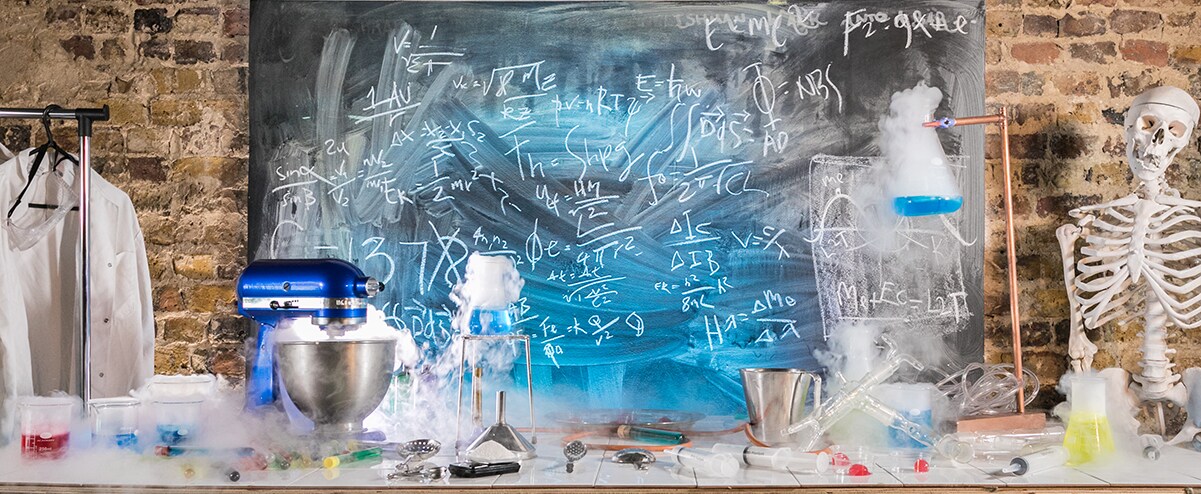 Boiler Boys
---
A delicious dessert and a focal point that looks damn cool! … the dessert station will provide an instant visual impact at Science World Leicester. Using Liquid Nitrogen they will create fantastical treats including: Instant Ice Cream, Dragon's Breath Meringues, Nitro Sorbet, 'Burst in your Mouth' Bubbles and Build your Own Ice Lollies.
Safety Area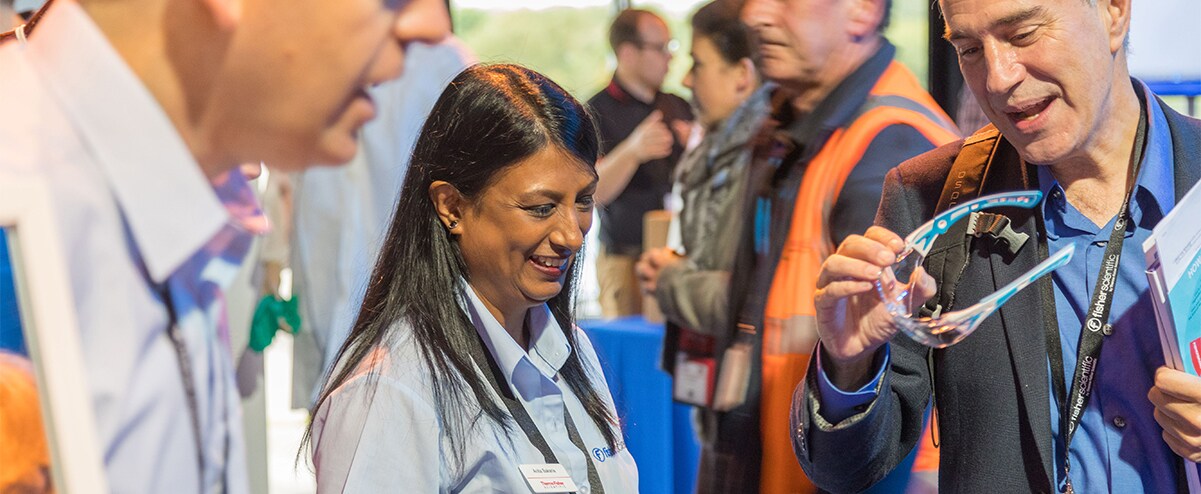 Safety and Cleanroom Solutions area
---
Laboratories across the UK are working at the forefront of scientific innovation in a fast-moving regulatory landscape. The need for correctly fitting PPE, hazardous material storage and suitable sterile apparel is critically important to ensure staff safety and legal compliance.
We are excited to announce Science World 2019 in Leicester will host a dedicated interactive Safety and Cleanroom Solutions area where visitors can view and demonstrate a wide selection of new safety and cleanroom products.
There will be opportunity to attend a number of short safety seminars by industry specialists from global brands and to meet the Safety Team from the Fisher Scientific channel, who will be available to help explain new safety regulations, correct fitting and training of PPE usage and showcase the latest in controlled environment protective equipment and apparel.
Safety seminars will take place as follows:-
Contec. 11.15-11.45. "Impact of the EU Biocidal Products Regulation 528/2012 on cleanroom disinfection".
Asecos. 13.00-13.45. "Storage and Handling of Hazardous Materials".
Ansell. 14.45-15.15. "Transition to new PPE regulations – Steps to take".
Keynote Speakers
Hannah Critchlow
---
Dr Hannah Critchlow is the Science Outreach Fellow at Magdalene College, University of Cambridge, and has been named a Top 100 UK Scientist by the Science Council for her work in science communication. She is listed as one of the University of Cambridge's "inspirational and successful women in science" and appears regularly on TV, radio and at festivals to discuss and explore the brain. More recently she was elected to the Fellowship of the European Dana Alliance for the Brain in recognition of her work in neuroscience public engagement activities.
In the past year Hannah has co-presented BBC's Tomorrow's World Live, The Secret Lives of 4 & 5 Year Olds and a BBC 2 TV series Family Brain Games with Dara Ó Briain. Hannah also helped judge the Wellcome Trust Book Prize and published her first book Consciousness: A Ladybird Expert Guide with Penguin and second book The Science of Fate with Hodder. A BBC Radio 4 documentary exploring the scientific concept of destiny was presented by Hannah to accompany this latest book.
Her talk at World Science will explore how a revolution in technologies is helping us to unravel the mysteries of the mind. How is consciousness generated? Is our fate written into our minds? How much free will do we actually have? Prepare to illuminate your thoughts and have your brainwaves read in this interactive journey through the mind.
---
Jamie Gallagher
---
Jamie Gallagher is an award-winning scientist and science communicator. He spends his days sharing his love of science and helping others to do the same. His work has taken him around the world, from skyscrapers of Hong Kong to tents in the African bush. As well as speaking live to thousands of people each year he's had work published in 19 different countries and has contributed to a number of television shows, radio programmes and museum exhibitions.
Jamie's work has seen him named as one of the "100 leading practising scientists in the UK" by the Science Council and he is recognised as one of the "175 faces of Chemistry" by the Royal Society of Chemistry. He won the International 3 Minute Thesis Competition and was a previous Famelab UK runner up.
Interested in the areas where the different sciences overlap, Jamie has a PhD in Chemistry and Electrical Engineering and a degree in Physics. He specialises in nanotechnology for renewable energy generation from wearable electronic devices to deep space exploration.
Jamie will be joining Science World to uncover the secrets of nanotechnology. Today nanotechnology is influencing almost every area of our lives – technology, food, health and sport. But just 45 years ago the word nanotechnology didn't even exit. Jamie will chart the meteoric rise of this tiny tech as we separate fact from fantasy.
---
Martin Farley
---
Martin Farley is currently UCL's Sustainable Lab Adviser and also works part-time at King's College London as Health School Sustainability Manager.
Scientific research requires an immense utilisation of resources. While some of this is necessary, there is a growing consensus that more can be done to mitigate the environmental impacts of science, whilst not sacrificing output in the process. In 2018-19, UCL Sustainability developed and piloted the LEAF standard to assist with this very challenge.
Short for the "Laboratory Efficiency Assessment Framework", LEAF contains criteria surrounding improving the sustainability and efficiency of laboratories, as well as calculators which allow users to estimate impacts. LEAF includes content to improve research integrity and is supported by the UK Reproducibility Network. This has been done in recognition that research which is not reproducible is unsustainable (waste of resources and effort) and that good practice steps can improve reproducibility. Universities which participated in LEAF's pilot include Cambridge, UCL, King's College London, Imperial, Edinburgh, Glasgow, Swansea, The Crick Institute, Manchester, and more.
Martin will be talking about: LEAF - A New Standard In Sustainable Science and will include results from the pilot, how to get involved, and the long-term direction of sustainability in science.
Day Planner

NB. Please note that the schedule may be subject to change
Suppliers
Sustainability
Events Team Pledge
---
Event Sustainability means taking action towards preserving our natural environment; promoting a healthy, inclusive society and supporting a thriving economy.
The Thermo Fisher Scientific EU Events Team pledges to Conserve, Create and Catalyse.
Conserve

Where possible recycle and upcycle
Reduce travel, particularly flights
Stop printing and use digital solutions, if we must print use recyclable options
Collateral – if we can't recycle it we won't use it
Stop giving freebies – Science World Leicester will be the last event where we provide 'goodies' to visitors – look out for our 'digital swab bags' at future events

Zero disposable plastics
Food – provide options that are sourced and served in a sustainable manner; audit waste – where possible reuse, compost, donate; always include vegetarian and vegan options
Promote local culture, use local expertise and suppliers
Promote sustainable behaviour
Create
Promote good health and wellbeing – healthy food options, education sessions, break out areas, health and wellbeing sessions, fun activities to de-stress
Foster gender equality and diversity - use of non-binary language, inclusive signage, accessibility
Catalyse
Quality education – seminars, networking events
Spread the word – engagement through delegate call to action
Social Responsibility – engage and support the local community
More
Supplier Sustainability Exhibiting Guide
---
We are committed to not only leading through best practice in sustainability and supporting our local community, but also to inspiring our stakeholders to take action.
Please join us and become an important part of the sustainability revolution.
We invite you to make your own sustainability exhibiting pledge. By pledging to support just 3 simple initiatives, you can help us make Science World even more sustainable.
We trust that the ideas in this guide inspire you to get involved. Even if you adopt just one idea it will make a real difference.
Make a sustainability pledge by committing to three green actions to minimise your impact at the show.
Choose 3 (or more!) of the following ideas:

Reduce all single-use plastics and paper, including brochures
Use digital options instead of printed materials
If you need to print then choose post-consumer recycled paper and vegetable-based inks
Use biodegradable, recyclable packaging; avoid using Styrofoam packing peanuts, these are not recyclable
Refill – don't provide bottled water – bring re-usable water bottles for your team

Appoint a waste management champion to encourage waste reduction on your stand
Use public transport or walk where possible to the show
Reduce or only offer sustainable gifts/giveaways
Attend the sustainability talk during the show and visit the Limehurst Sustainability Zone
REMEMBER - if we all make just one small change together we'll make one big difference
More
Visitor Sustainability Call to Action
---
Use your water bottle and refill it at the water stations
Enjoy the self-serve lunch – only take what you need, minimise waste
Use our sustainable furniture
Recycle your badge and unwanted freebies in the bins provided

Attend the Sustainability Talk during the show
Visit the Limehurst Sustainability Zone and make your own pledge
Make notes on your mobile devices – go paper free
Gamification – join the game and use the web!
Limehurst Sustainability Zone
---
Limehurst Academy, a mixed secondary school in Loughborough, is working alongside Thermo Fisher Scientific to bring a Sustainability Zone to Science World.
The Limehurst students will have been working on the project for a number of weeks leading up to the event and challenge you to write a Sustainability Pledge on their wall, take their Sustainability Quiz to win a sustainable prize and invite you to take part in their Sustainability Pledge video.
What people had to say about Science World 2018
---